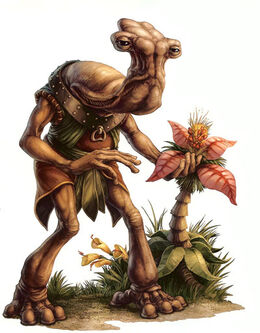 Description-
Ithorians are tall humanoids whose appearance leads many to refer to them colloquially as "Hammerheads." Peaceful and gentle, Ithorians are widely recognized as talented artists, brilliant agricultural engineers, and skilled diplomats.
Ithorians are perhaps the greatest ecologists in the galaxy, devoting their technology to preserving the natural beauty of their homeworld's jungles. They live in "herds," dwelling in cities that hover above the surface of their planet and strive to maintain the ecological balance in the "Mother Jungle."
Ithorians also travel the galaxy in massive "herd ships," masterpieces of evironmental engineering that carry a perfect replica of their native jungle. Many look forward to trading for the exotic wares the Ithorians bring from distant planets.
Personality-
Ithorians tend to be calm, peaceful, tranquil, and gentle.
Physical Description-
Ithorians are humanoid, ranging in height from 1.8 to 2.3 meters tall, with long necks that curl forward and end in dome-shaped heads. They have two mouths, one on each side of their neck, producing a stereo effect when they talk.